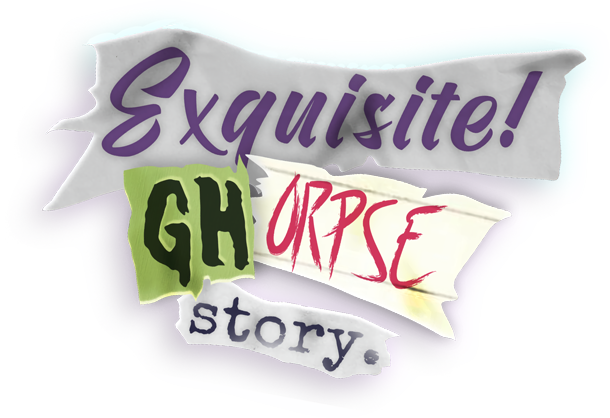 Exquisite Ghorpse Story
We figured out the design of Exquisite Ghorpse Story at a rest stop in rural Wyoming. We were driving from Atlanta to Portland and still had a couple of days left on the road. Next up our Utah motel, then the long haul from Salt Lake City to home before sundown.
We were exhausted by this point. But we're looking at what we're going to do when we get home; a small, fun little project to get ourselves back up, running, and in the habit of work. We also had a pragmatic concern: I was about to start using Inkle's Ink in a project and needed an opportunity to road test the interactive fiction platform.
The constraints: some kind of lightweight interactive fiction, with a focus on Kylie's artwork. Kylie sketched out some ideas on paper, and we developed those as we covered the rest of our trip.
Setting the game up was easy enough: Ink is a lovely tool to use and is handling the entirety of the game's logic. The frontend is built in Unity; relatively straightforward on the programming side of things, but actual implementation was pretty fiddly. There's a lot of little bits of animation in the characters & UI, and flipping between frames on the character animations + transitions required a good deal of manually adjusting keyframes in-editor.
Assembling the stories was a lot of fun. "Would it fit in a Scooby Doo episode" was our main criteria for this. A few nights bouncing ideas back and forth and trying to coordinate the different components as best we could.
The biggest challenge probably showed up when it came time to localize. For all the game's dynamic texts, we'd overlooked the need for gendered words in languages such as Spanish. A few pieces of realignment in the script and work alongside folk handling localization later and everything was good to go.
We had good fun putting together Exquisite Ghorpse Story. It's a short, fun little toy – we hope you enjoy it!

-jessica harvey

Files
Ghost Story v 1-0.zip
31 MB
Oct 15, 2021
Get Exquisite Ghorpse Story