Silver, a font for games
GMS2: FF00–FFEF rendering issue
---
Hello everyone!
We recently discovered an issue with characters such as U+FF01 [!] not being rendered correctly in Gamemaker Studio 2. We have opened a ticket with Yoyo Games.

Below is a diagram of the issue using a sample string


!a!a!a!a!a

How much spacing symbols such as U+FF01 [!] have around them in Silver.
How GMS2 renders U+FF01 [!] in the editor with no spaces.
How U+FF01 [!] should render alongside [a] with no spaces.
How

U+0021

[!] is baked in the sprite sheet.
How U+FF01 [!] is baked in the sprite sheet.
As you can see in 2, 4, and 5, GMS2 is removing the extra width around [!]. We have confirmed that this happens with other characters in the Halfwidth and Fullwidth Forms range with characters such as U+FF61 [。] and U+FF0E [.]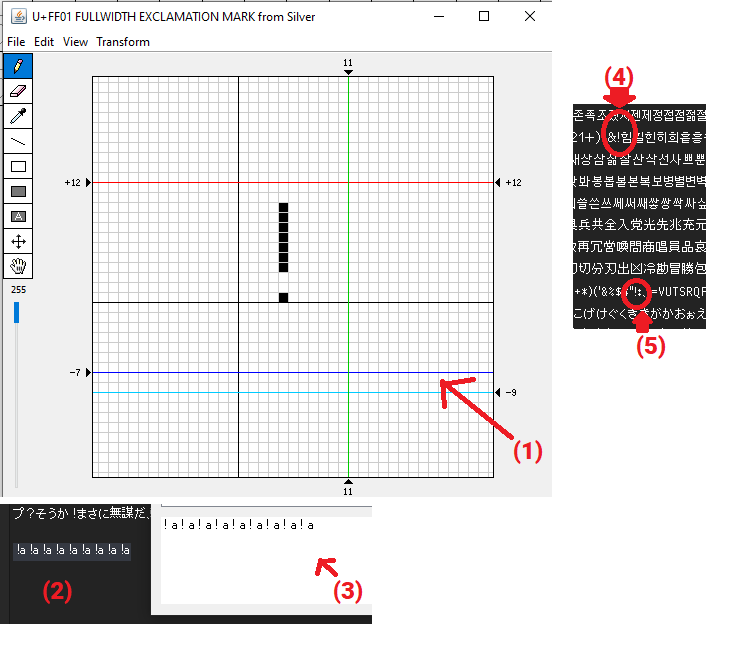 We will update this post when the issue is resolved or an update is released.
Thank you very much!
UPDATE
This is a reply from Yoyo to our ticket

After discussing it with our Core Tech team I have reported your issue in our database to investigate the improvement of the support of those fonts.
The bug database is now fully private, so I do not have a link you can monitor, however we will of course mention the fix in the release notes for the version it's released in.
I'm going to solve this ticket now, as there is no further information we require from you at this time. Please stay tuned to the GameMaker Studio social media channels for further updates.
We have also discovered that this issue does not affect GMS 1.4, and only affects GMS 2. We will keep you informed as we receive information from Yoyo Games about this.
UPDATE 2:

Yoyo Games is helping us directly via a technical support ticket. We will issue an update to the font if Yoyo Games and Poppy Works determine that the issue is on Silver's end. Thank you!

Get Silver, a font for games